Tools
Along with the extensive experience of the Crothers Consulting team, we can bring you best practices in all areas of HR consulting and coaching.
When we partner with you, we bring training and assessments from experts like:
Coaches Training Institute (CTI)

DiSC

WorldatWork

Myers Briggs Talent Inventory

Korn Ferry PROFILOR (PDI)
Contact us to begin the process!
Behavioral Interview Practices with a DEI Lens (H1)

Overview:


This session offers a reliable way to assess soft skills, culture fit and personality type. It seeks to minimize unconscious bias. This engaging workshop will teach participants how to ask provoking interview questions and conduct a behavioral interview. This can be very hard to rehearse especially when you give candidates room to talk; this hour will allow for that valuable practice time!


Topics:
Interview do's and don'ts of behavioral interviewing

Determine 3 – 5 company values / culture defining terms

Create behavioral interview questions for one of your jobs

Practice asking the questions

The 80/20 principle of good interviewing

Key words and body language

Respect in the Workplace (H2)
Overview:
This 2.5 - 3 hour workshop deals with all of the HR topics in the workplace to create an inclusive and legally appropriate workplace.
Topics:
Sexual harassment

Discrimination

Diversity and inclusion

Unconscious bias
This training is mandatory in many states (such as NJ, NY and CA) and will go hand-in-hand with your employment policies. A shortened 60-minute version of this half day workshop can deal with one or two of these very important workplace topics per session.
Diversity, Equity and Inclusion (H3)

Overview:

In this time of racial upheaval we recognize that Diversity, Equity, and Inclusion (DEI) training is more important than ever to help promote a safe environment for your employees to thrive. Using real life scenarios to help transform learning into new behavior, this guided facilitation will cover several topics for enhanced learning and understanding.
Topics:
Facilitate understanding of the laws

Increase awareness of biases which feed systemic racism

Promote safe and constructive conversations about race in the workplace

Support individual responsibility in achieving a Diverse, Equitable, and Inclusive (DEI) culture resulting in happier employees and business success
Modules offered:
Current state/psychological safety

Unconscious bias/silence/microaggressions

Upstander/anti-racist

Transforming new learning

DEI strategies for your culture

Laws and policies that impact us
Our training and facilitation can be held in one day or over a few months. Additionally it can be experiential training or facilitated as discussion groups depending on the needs of your employees.


Unconscious Bias 2.0: Going Deeper (H4)


Overview::
We all have our own biases, ones that support us and others that detract. Being unaware of our biases can significantly harm well intended efforts in the workplace and in life. Having bias is part of our makeup, however it is our responsibility to self reflect and realize what unconscious biases we have.

Leaders should use one's discretionary effort to make decisions with mindfulness. Otherwise, not understanding our unconscious bias could lead to negative outcomes that we never intended.
Topics:
Current trends in Diversity, Equity & Inclusion

Understanding unconscious bias and how it shows up

Interactive exercises in how to uncover unconscious biases

How to move forward with intention




Combat the Great Resignation and Meet the Demands of the New Employee Market (H5)
Overview:
As resignation rates are at alarming levels and unemployment remains low with no hint of changing pace, employers are finding it increasingly difficult to attract and retain their workforce. You may have thought you tried every approach to no avail and are overwhelmed by what to do next with this unprecedented shift to the employee market.
In this interactive workshop you will learn practical approaches you can implement immediately to start changing the tide in your favor and build the business you want.


Topics:
Recruitment strategies


Retention measures




Sourcing ideas

Employee incentives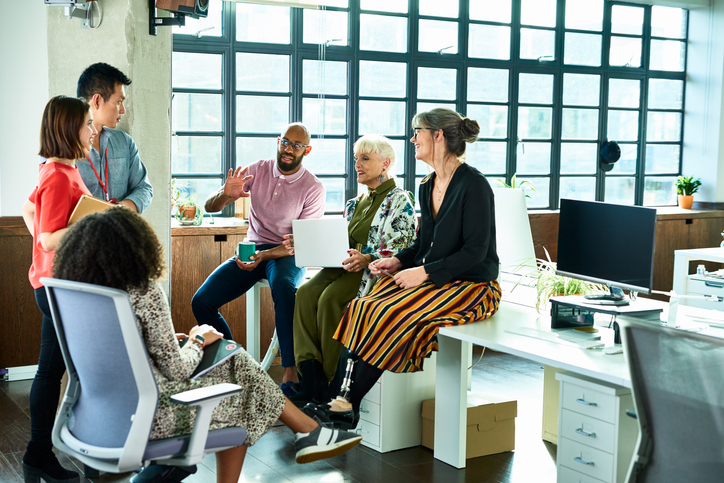 NEW! We continually add new trainings - check out "Combat the Great Resignation and Meet the Demands of the New Employee Market (H5)", below
Empathy in Action (H6)
Overview:


Empathy is the most important ingredient in all relationships, especially work relationships.
This interactive workshop explores the power of empathy when it comes to engaging a diverse workforce as well as provides effective tips and strategies for fine-tuning your empathy skills. Employed properly, empathy is simple and yet so powerful. Many times, we get this wrong because we want to fix, change, rescue or problem solve - participation will help "get it right."

Participants will gain a deeper understanding of empathy, why it matters and its benefits. In addition, they will learn strategies to employ empathy, the questions to ask, how to improve relations and assist in becoming a more productive team member or effective leader.
Topics:
Defining empathy and its benefits

Factors that impact our ability to feel empathy towards others

Reflective listening as a tool to harness empathy

Tips for showing up in the workplace with more empathy